Öhlins RXF36 EVO 27.5″ Air
Now even better performing and even more reliable than ever, the new EVO upgrade takes the TTX-equipped RXF36 fork to the next level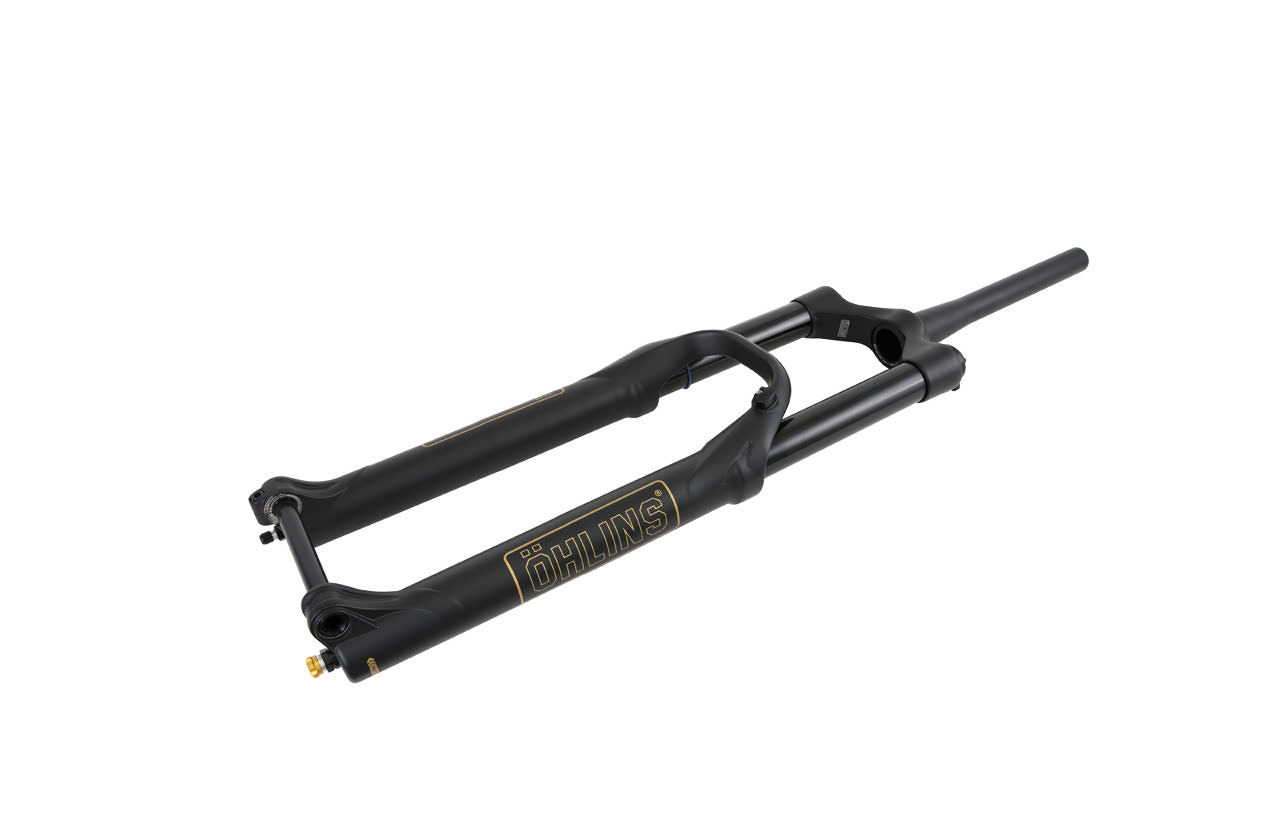 Description
The original RXF36 fork was well received for its fantastic big hit control and class-leading chassis performance. However, feedback from some quarters on how the fork handled smaller impacts was not quite so positive, so we decided to boost its performance.
The resulting EVO upgrade combines the original RXF36's superb big hit performance with increased small bump sensitivity for better trail tracking. This gives the RXF36 EVO Air a super-smooth feel in all trail conditions, providing riders with higher levels of traction and ride predictability.
On winding trails strewn with roots and rocks, with its ground-hugging traction and super-plush feel, the RXF36 EVO Air will help you maintain momentum and give you enhanced bike control with minimal performance loss over longer runs. When riding trails with more demanding features, the unparalleled big hit absorption provided by the TTX damper will give you the confidence to push your bike harder and ride faster than ever before.
The EVO upgrades to the RXF 36 27.5″ Air are:
SKF seals to increase performance in wet conditions and improve longevity.
A redesigned piston that reduces breakaway force and better controlled pressure build up at higher shaft speeds.
Adjusted bushing play to meet our enduro race team's specifications.
Our TTX technology (twin tube design) enables parallel and separated oil flow to ensures optimal pressures at all times. Controlling the pressure levels in this way ensures initial stroke smoothness and allows the fork to stay high in its travel to maintain small bump absorption, providing excellent traction and stability.
The RXF36 EVO's adjustment range is specifically designed for tough trails, with 15 clicks of low-speed compression and low-speed rebound for total suspension control. For high-speed compression, you get five clicks plus a climb mode setting. Clicker dials make for easy on-the-fly, tool-free adjustments.
The triple air chamber system enables riders to easily dial-in the level of progression they require – from the initial movement, right through to the bottom out. Everything is brought together by the fork's unique forged crown designed for maximum stiffness and the highest degree of tire control unhindered by chassis flex.
Existing RXF36 Air owners can give their fork all the advantages of the EVO upgrade with our easy to install, retro-fitable EVO-kit.
Just like every product fitted with TTX damping technology, the RXF36 EVO has a race-proven settings bank giving access to a huge range of options for tuning the damper to suit any specific rider, bike or riding style.
TTX-technology
Available in 27.5 and 29" versions
SKF seals
Reworked piston design
Adjusted bushing play
External rebound adjustment, 15 clicks
External low-speed compression adjustment, 15 clicks
External 5 click high-speed compression adjustment with pedal mode
Easily tuneable, triple air chamber system
Main air chamber with self-balancing negative air-spring
Ramp up air chamber allowing on-trail spring curve adjustment
Tapered steerer tube
Available in 140mm, 150mm, 160 and 170mm travel
46 mm offset
15x110mm Boost-width axle
36mm stanchion tubes