Öhlins TTX22M (Specialized)
Supreme levels of big hit performance combined with excellent traction and control make the TTX22M the ultimate shock for gravity riders – which now comes custom-made for Specialized bikes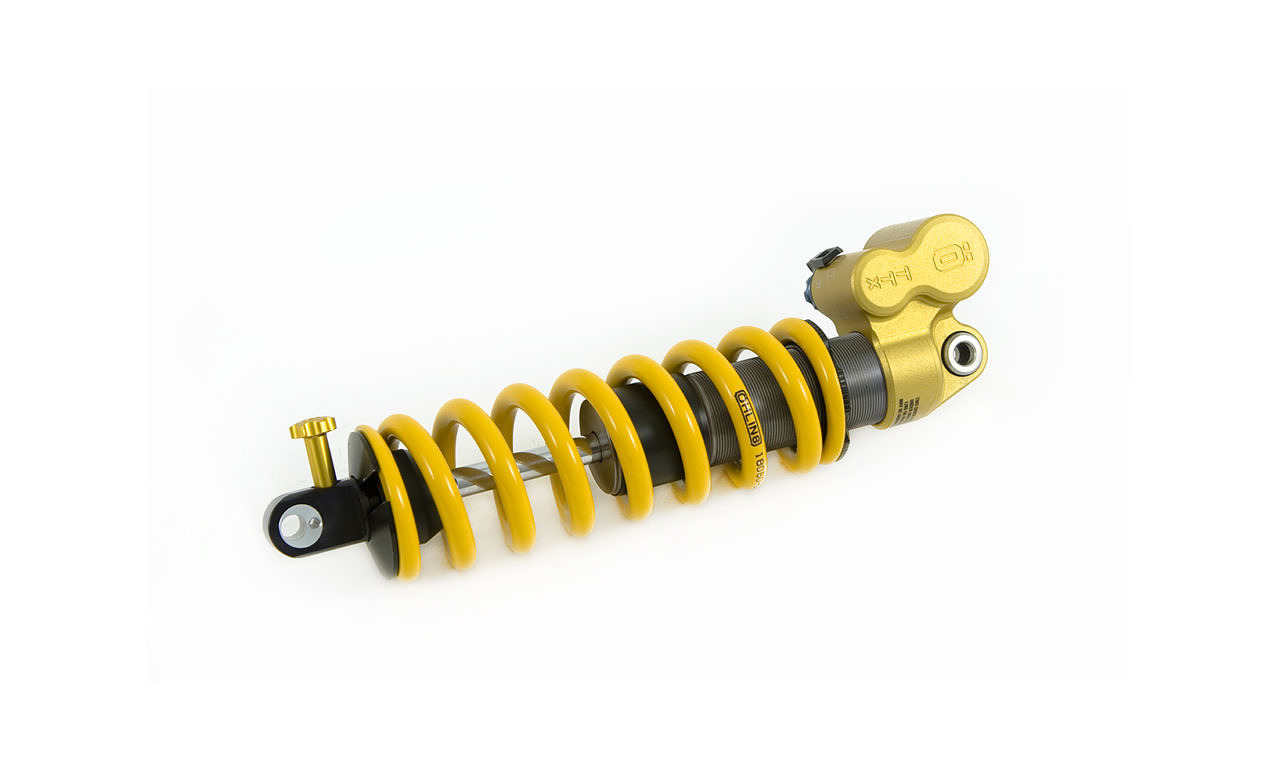 Description
The Öhlins TTX22M shock delivers World Cup Downhill performance in a package to suit any bike and enables you to attack the toughest sections faster and harder than you ever thought possible. From the moment it got into the hands of riders, the TTX22M created a massive buzz within the bike industry. Praised for its outstanding performance and a huge range of meaningful adjustability, the shock sets a new standard in high-end gravity componentry.
Designed to soak up even the most challenging World Cup Downhill tracks, the TTX22M shock also provides excellent pedal efficiency over flat and uphill sections. Its twin tube design allows the gas pressure to consistently backup the low-pressure side of the piston to keep it at a controlled level. This ensures a highly consistent damping performance and an instant suspension response for outstanding bike control and unbeatable tire traction over any kind of terrain. It's now lighter too, with new springs that decrease weight by 25 to 30 per cent.
Low and high-speed compression and rebound damping are externally adjustable for easy tuning on-the-fly. Spherical bearings are offered as an option, on widths up to 22mm, for additional reduction in friction from sideways loads and even greater small bump sensitivity. Initial set-up of the TTX22M shock is really easy – check out the video here.
The Specialized-specific TTX22M comes with three different high-speed compression settings designed for the Demo 8 and Enduro Evo models. The standard Enduro model features a stability mode, which increases compression to give reduced suspension movements for climbs and flatter sections when gravity is working against you.
All our shocks feature a stability mode on the high-speed adjuster, which increases compression to give reduced suspension movements for those times when gravity is working against you.
Just like every product fitted with TTX damping technology, the TTX22M has a race-proven settings bank giving access to a huge range of options for tuning the damper to suit any specific rider, bike or riding style.
Specifically designed for the Specialized Demo 8 2011+, Enduro Evo 2013+ and Enduro 2013+ bike models
TTX Damping Technology by Öhlins
Nitrogen pressurized bladder reservoir system
Easy to set up with enough adjustment range to suit different riding conditions
External, three levels of high-speed compression adjustment (two levels plus a climb mode on the Enduro shock)
External, 16 click, low-speed compression adjustment
External 7 click, low speed rebound damping adjustment
DU Bush or spherical bearing mounting options
Specific, optimised spring range for each shock stroke to reduce weight with 23lbs 4N/mm increments saving 25 to 30 per cent weight